Hello my stylish friends!  As we settle into January most of us start thinking of organizing and what projects we would like to attempt around the house in the new year.  Well, as of today I am still trying to dig out of the aftermath of my Christmas decorating.  I swear, once again, that I will not use ALL my decorations next year.  I have waaaay to many and should really give some away! That being said, I have been ticking off a list in my head of projects I would like to get done  this year.  Let's see…there's the pantry makeover, the laundry room makeover, finishing the master bedroom (4 years later) and some projects for clients (that I actually get paid for!).  What projects are you thinking of?  Here are some ideas to get your juices flowing…
1.  Make the Formal Space into a Home Office.
I am actually at the tail end of this project myself.  And, I have to say that I love that I am using this space now, everyday.  Much better than walking by it once a day wondering if I need to dust it!  A formal living room is something most of us do not need or want.  We all want more casual living spaces!  So, why not make this wasted space into a home office?  All you really need is a desk, chair and some sort of storage.  Oh, and it needs to be pretty and stylish!  In most cases it is the first room people see when they enter your home.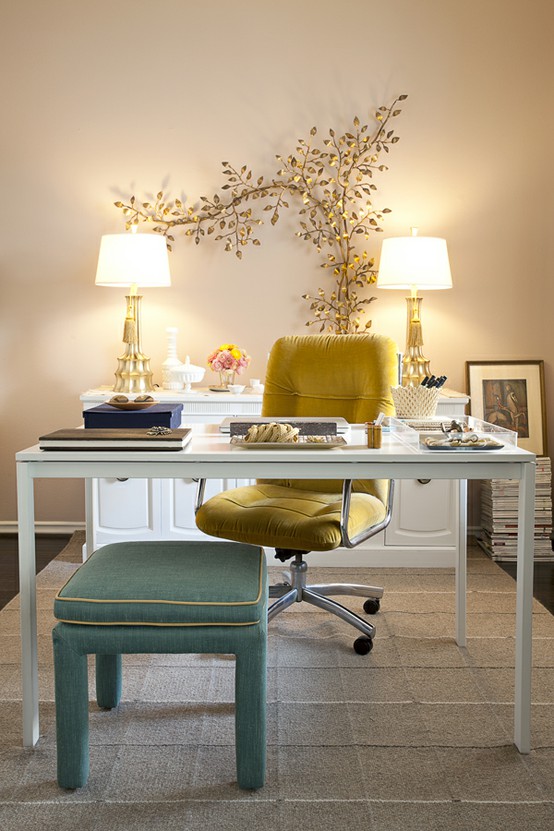 2. Make a Mud Room
No, don't make a room out of mud!  If you don't have one you can make your own version of a mud room.  Any home can benefit from a mud room.  Especially, if the space is near the back door or garage entrance to the home.  Kids/adults/pets/other people's kids need a place to kick off their shoes and drop all of their wet winter gear!
3. Make a Stylish Entryway
Wouldn't it be nice to have a stylish place to drop your keys and check your hair before running out the door.  Even if you have an older house that doesn't have an entryway/foyer, you can create one.  And, if you already have one…why not take it up a notch?
4. Add a Eye Catching Light Fixture
A beautiful light fixture can add a lot of style to a  just okay room!  New and interesting light fixtures can be affordable at places like Lowes, Home Depot, Ikea and Overstock.com.  There is so much to choose from right now that the sky is the limit!
Now that I got you thinking about projects for your home…it's back to the attic for me!  Almost done putting away the holidays!Make it Stylish!
-Karen